Team Buzzbold's Take: The New Nonprofit Cloud from Salesforce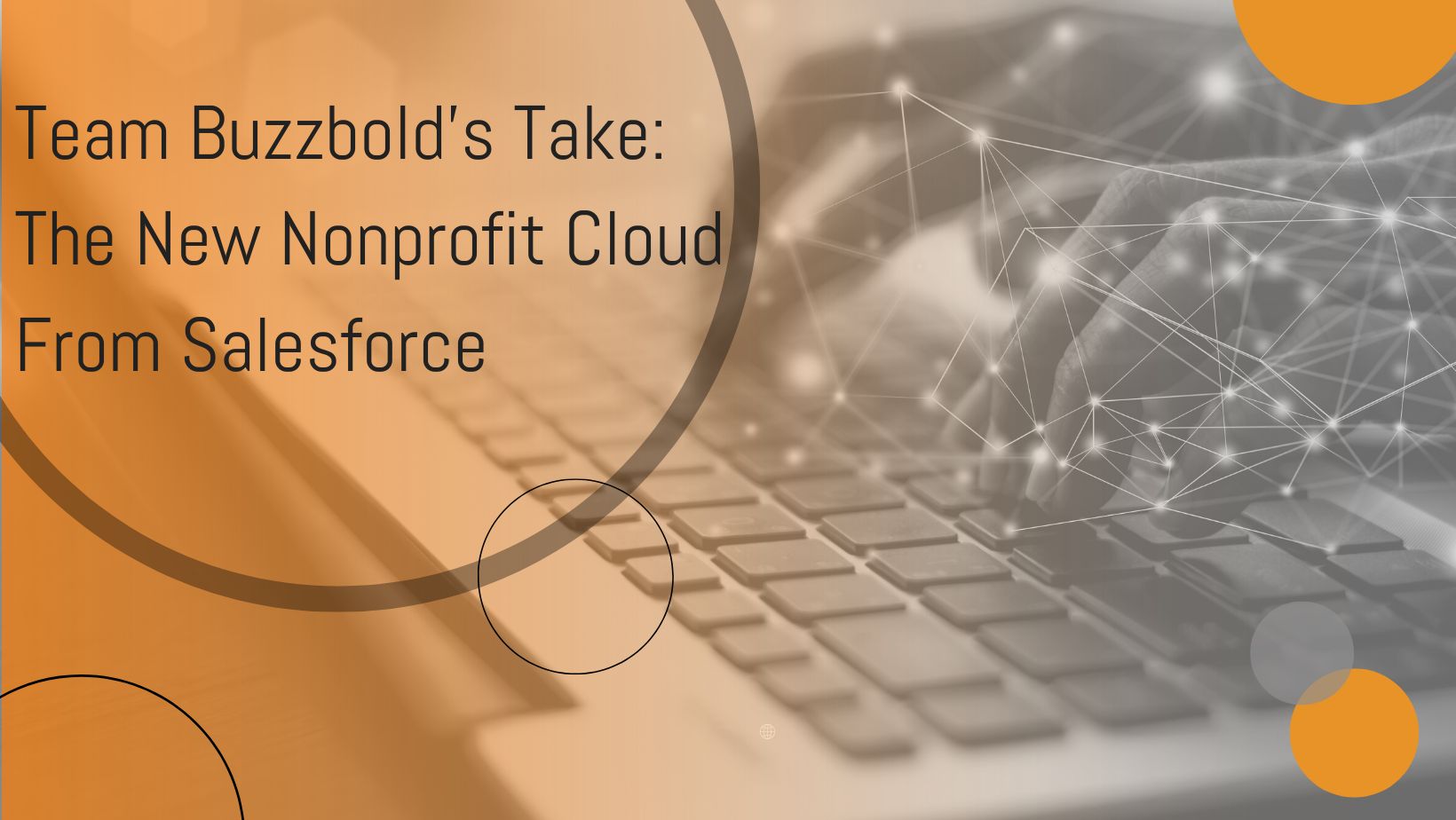 You may have caught the buzz that was generated by Salesforce's recent announcement that a new, reimagined, Nonprofit Cloud solution has been released. As your trusted advisor and registered Salesforce partner, we have closely followed these developments and have been provided with detailed information, training, and documentation by Salesforce to help us support you in navigating the changes and assessing your current solutions in light of this new offering.
Why the change?
With innovation being a central value for Salesforce, they continue to focus on people and systems working together to drive real change and impact. Built on Core, the value of moving to new solutions allows for long-term scalability. Delivering innovation with an impact mindset also allows the great work from other Salesforce sectors to be built into nonprofit solutions. Ultimately, nonprofits will now have access to a wider range of products and services, as well as additional support and resources to help them achieve their goals.
What is the new Nonprofit Cloud?
Reimagined solutions to four priorities for nonprofits with impact at the center.
Deliver powerful programs through programs and case management
Grow fundraising income with data intelligence and insights
Know and expand your community with personalized experiences
Measure, learn from, and share impact
Nonprofit Cloud for Programs is the latest solution that now includes more out-of-the-box expanded functionality. Rather than layering nonprofit applications on top of the platform, solutions are built directly into the core of Salesforce, gaining access to innovation across all Salesforce industries.
Key features of the new Nonprofit Cloud for Programs
Available today, this next generation of Nonprofit Cloud has a new way to support your programs and case management, tapping into the full power of the Salesforce platform.
Benefit Types across programs provide a new angle of reporting.
Reduced time & manual errors by streamlining how Service Providers take attendance.
Participant Profile: quickly learn how a participant has been engaging and how they need support using ARC (Actionable Relationship Center). This shows all records relating to that person and a Timeline of touchpoints to see history, current, and what's next, relationships, key life events, and more.
Care Plan Templates linked to Benefits
Dynamic Assessments: questions will update automatically based on answers to previous questions in the form. File uploads & an Action Plan checklist are also included.
Interaction Summaries are designed as a more functional version of notes.
What are the considerations for choosing current Salesforce solutions as opposed to Nonprofit Cloud for Programs – as of today?
HIPAA compliance is needed for your organization. As of this publish date, March 14th, 2023, Nonprofit Cloud for Programs is not HIPAA compliant.
Fundraising is a priority.
You do not want to be part of the "first wave".
Your current solution is meeting or exceeding your needs.
What's next?
No action is needed at this time. Salesforce has said they will maintain support for their existing offerings anchored by the Nonprofit Success Pack (NPSP). This new Nonprofit Cloud will also be included in The Power of Us Program, providing ten free technology licenses through Salesforce grants. As of today, Salesforce has started with programs and case management in Nonprofit Cloud, but outcomes, engagement, and fundraising will be released later this year.
Our team is here with you every step of the way to help you evaluate solutions as they become available and strategize for the future.
Let's connect and collaborate on solutions and options to consider for your organization, schedule a meeting here!