Equity, Empowerment, and Engagement: Technology Trends Tuned into These Needs Featured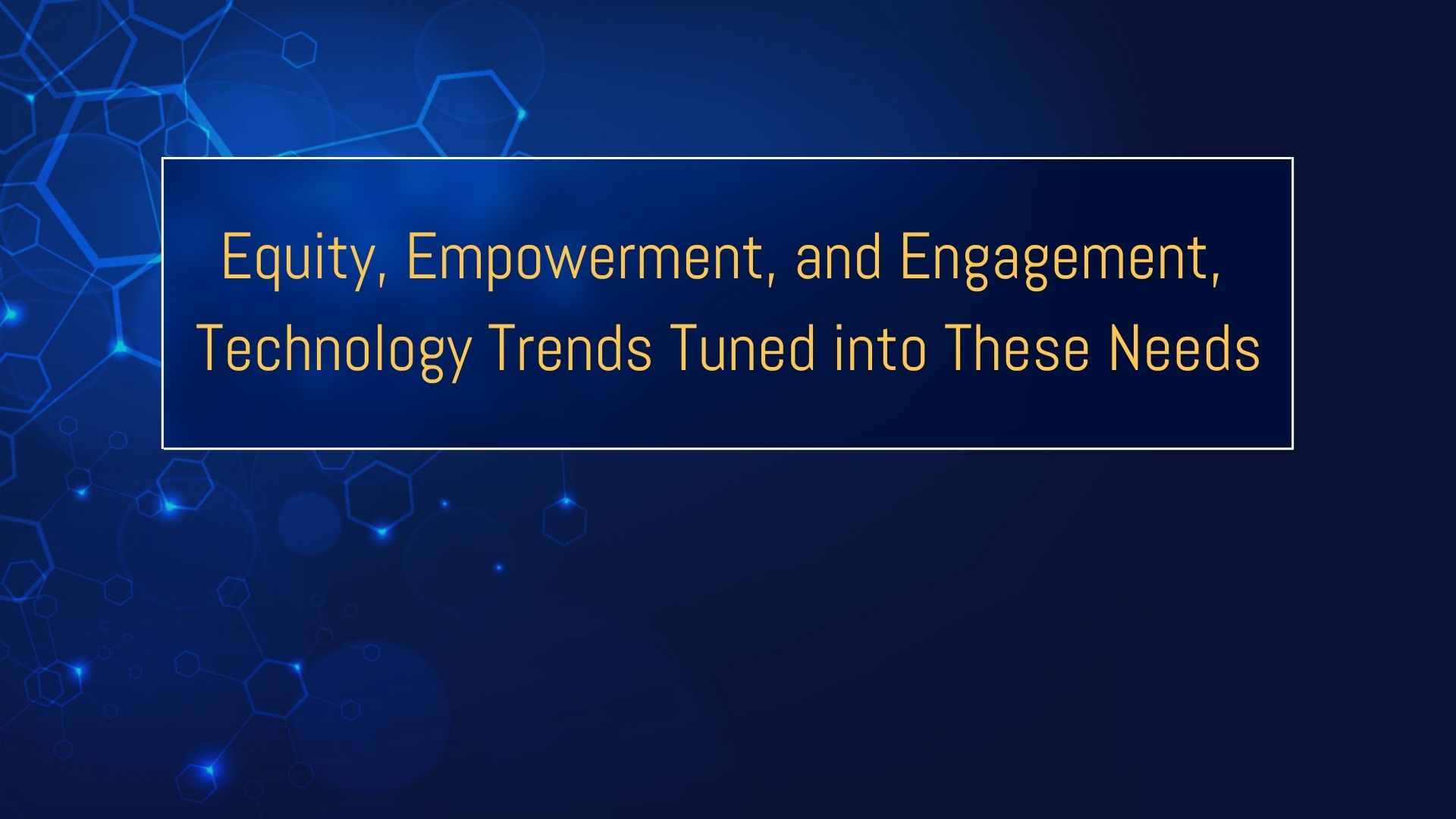 What does the future look like in technology for nonprofits?
In this (almost?) post-COVID world, many nonprofits are left to wonder, "what's next and how do I navigate this new landscape?" Technology and the insight and engagement it produces are at the forefront of every discussion. Technology innovation is evolving every moment to serve these needs when it comes to this remote-first world, inflation effects, and the ever-present need to meet people where they are. These nonprofit technology trends are here to stay.
Running your Nonprofit with Equitable Access
More and more, Nonprofits are moving to the cloud to support equitable access to necessary data wherever their team is based. The days of everyone around a conference table on a regular basis is fading for nonprofits, and organizations in general, strategizing and sharing in person is not as common as it once was and expanding to include remote team members allows for greater diversity overall. 75% of employees believe more diversity is needed in the workplace and hybrid or remote first environments are a great way to embrace that. This transition to a cloud-based platform also brings with it new data analytics and cybersecurity tools, a must have for the future.
For example, with Salesforce for nonprofits, every person on your team can access data relevant to their role. As a nonprofit leader, you have access to the big picture with real-time data storytelling. Having this technology in the palm of your hand ensures everyone is driven toward a common goal and impact is maximized. 87% of those that invested in new technology over the past year reported it as impactful.
Equity is not just internal, but it's at the core of organizations providing human services. Having a robust and transparent human need (case) management system is essential if your nonprofit is focused on serving students, patients, and humans in general, as it is becoming increasingly difficult to get resources to those in need quickly, efficiently, and effectively. That big picture view of the needs of your people allows better service, faster, for those who rely on your organization.
They say, "you don't know what you don't know." The powerful knowledge provided through cloud-based case management allows for organizations to be ahead of the curve, equitably meeting or exceeding the needs of those they serve.
Empowerment with the Right Services
With everyone in your data-driven organization empowered to take action to serve, they also need to be empowered through technology.
Managed services are becoming THE latest trend in technology to maximize resources and allow for nonprofit teams to focus on what's important, leaving the technology functionality to the certified experts.
With the cost of everything rising, Buzzbold answers the call, an early adopter of providing managed services. We empower nonprofits by managing cases through our Success Hub and have full-time certified team members providing the support and training needed to keep technology running smoothly. This is a win-win for organizations looking to keep their Salesforce orgs backed up and maintained, reduce outages, and empower their staff to focus on actionable impact, not technology management.*
Engaging Data for Donor Retention
Where would we be without our donors? Reaching them, engaging them, and keeping them involved for the long term is necessary for nonprofit organizations to continue their essential impact. 76% of nonprofits still need to develop a Data-Driven Strategy. Without that valuable data to tell the story, it can be difficult, if not impossible, to make the best internal decisions that drive donor retention.
With remote, and most likely mobile, giving being the safest way to donate, it is imperative for nonprofit organizations to make the process accessible and engaging for donors.
Finding the right strategic technology partner, a team of people that care and understand, can help your organization reach new heights in engagement and donor retention.
What's Next?
With VR, Hybrid, and complete virtual engagement happening now, having a trusted technology partner on the lookout for the best interest of your organization is key to staying ahead of the curve and maximizing resources. To find out more about how Buzzbold amplifies the culture and strengths of nonprofits as well as providing strategic resources combined with a highly certified team, contact us here, we'd love to connect.
*The Buzzbold Success Hub, through a Support & Training Success Plan, provides service, training, and support for your Salesforce org. With weekly backups stored by Buzzbold, maintenance, monthly reporting, and collaborative case management, your nonprofit will be engaged in a high level of security and success.