6 New Key Salesforce Features for Schools and Nonprofits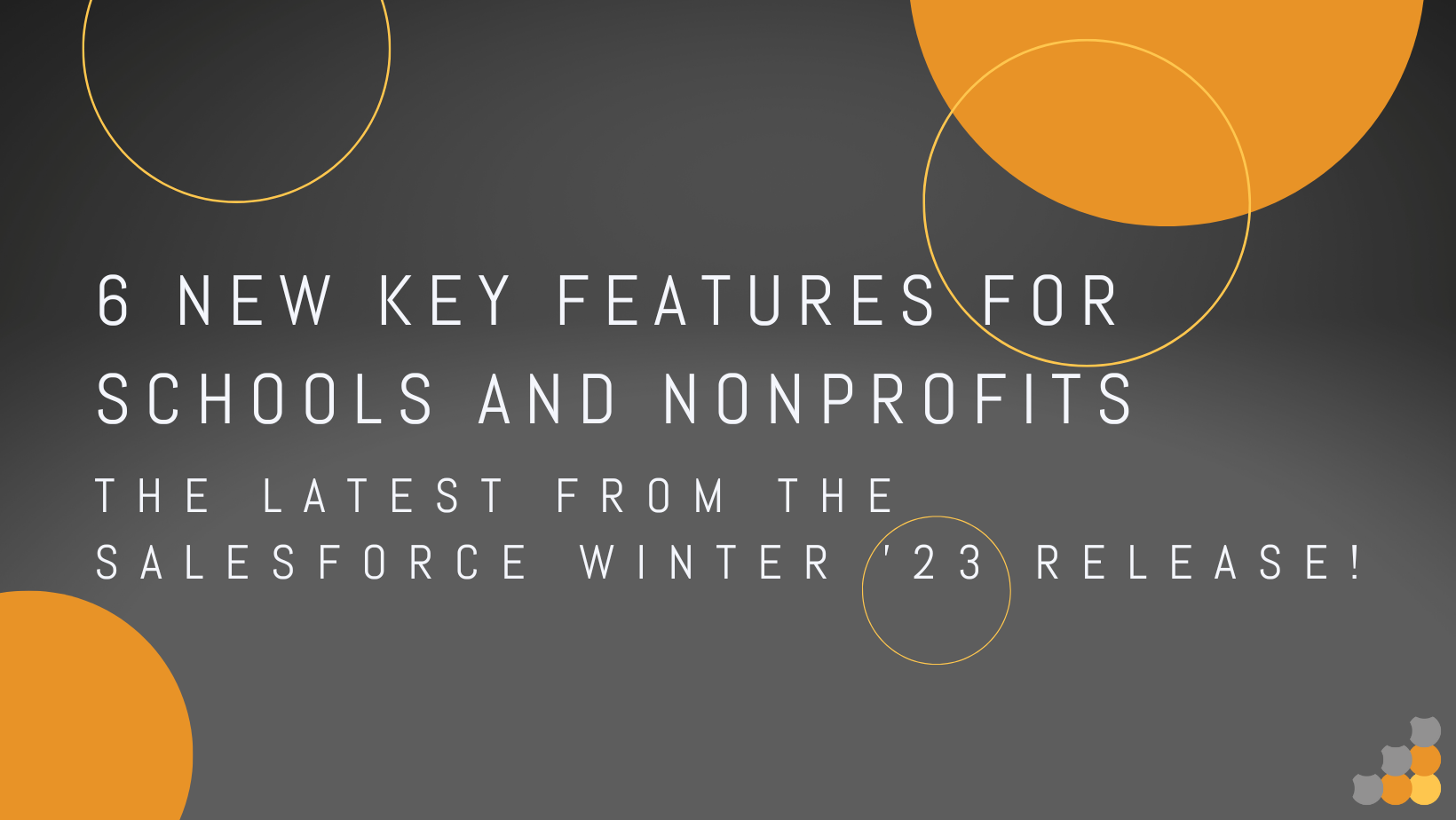 It's that time of the year again! The latest Salesforce Release brings expansive enhancements, welcome Winter '23! Whether you're a Nonprofit or in the Education sector, we're here to ensure you don't miss some of the most important updates for your organization. We've curated a list of our picks for the top 6 Nonprofit and Education updates to watch this Winter.
Experience Cloud for Nonprofits Self Service for Recurring Gift Management: Enable donors with self-service and spend more time cultivating supporters. A Donor Management Gamechanger!

You can show donors their Elevate, Non-Elevate, or all donations.
Payment Methods can be easily updated.
Donation amounts and frequency can be managed quickly & easily!
2. The Nonprofit Success Pack is now offering Gift Refunds! This feature gives nonprofits the ability to easily issue donors full refunds for gifts when needed, and be able to record those refunds for ease in accounting and tracking purposes.
3. Improvements in fundraising efficiency are always welcome, and with the Winter '23 release, there will be increased Data Entry Verification. This will help your organization improve data quality by validating email and phone formats to discover which stakeholders have passed away, also avoiding what could potentially be unfortunate outreach.
4. Moving into some exciting Salesforce for Education releases, there is now the introduction of appointment booking enhancements in the Student Success Hub. This will help ensure facilities are able to give students more custom levels of support by allowing them to enter comments when they are making appointment booking requests.
5. Another enhancement in Education is the Student Success Hub: Guidance Center. The new Guidance Center offers step-by-step guidance and resources for the appointed Admin in your organization to get quickly up to speed!
6. Finally, the Data Mover Enhancements for the Education Data Architecture (EDA) and Student Success Hub allow you to bring in external data with ready-to-use importing, custom mapping, and duplication prevention logic. This exciting feature for data integrity!
If you would like to learn more about how Salesforce can drive impact in your organization, we'd love to hear from you; send us a message here!