How to decide what technologies to integrate into your organization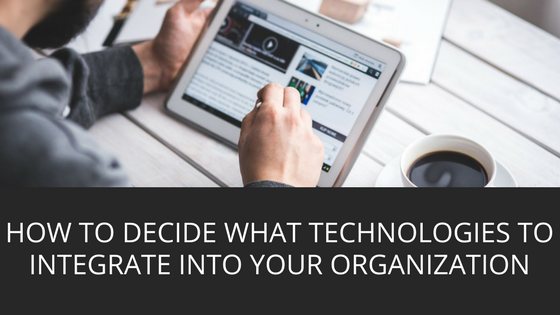 More people have access to the web than ever before and as for-profit businesses have revolutionized their models, often, limited by resources, nonprofits have been left behind. As customer expectations rise, it has become important that nonprofits embrace new technological solutions, so where should you begin?
Adding technology solutions to your organization may certainly help you look modern, but the number one goal should be to ease the workload of you and your staff. So first consider, what do you and your staff spend the majority of your day working on? Common issues for nonprofits are updating donor contributions and data, contacting donors by phone, or planning fundraising campaigns. Hours spent updating donor data could be solved with a Customer/Client Relationship Management (CRM). Investing in a sustainer program and/or improved, branded online donation pages cuts down on calling donors to renew pledges. Adopting marketing software enables you to not only instantly track interested visitors, but also creates automated email campaigns to connect with them and can significantly reduce costs.
Another way to add technology is to research what is currently popular in tech. Is your website mobile ready? According to a study from 2015, 45% of emails are opened on mobile phones and recently, mobile devices overtook desktop computers for use in web browsing. Would it benefit your organization to add and update donor information live at your events? That's cloud computing and instead of investing in more hardware, many businesses are using cloud services, which offer flexibility and reduced overhead. Take a look at the most popular nonprofit sites and observe their designs. Are they crowded with text? Do they have a complicated drop-down menu or a difficult to locate donation page? Probably not. Use them as guidance to redesign and modernize your website.
Lastly, remember that accepting change takes time. Your staff is resilient and may have learned to work around inefficient systems as best they can. New technology requires a learning curve that could be steep depending on where your organization started. To make the transition easier consider having one or two employees train and use the product before a hard launch. Not only will an experienced employee have seen the benefits of the solution, but they can also help others when needed.
Introducing new tech into your nonprofit organization does not need to be stressful. View it as an opportunity to improve the relationship between you and your donors. Improving your web presence, administrative tools and data management will free up staff hours, giving you time to focus on services, which in turn, attracts more potential donors.