7 Exciting New Features for Nonprofits in the Salesforce Summer '22 Release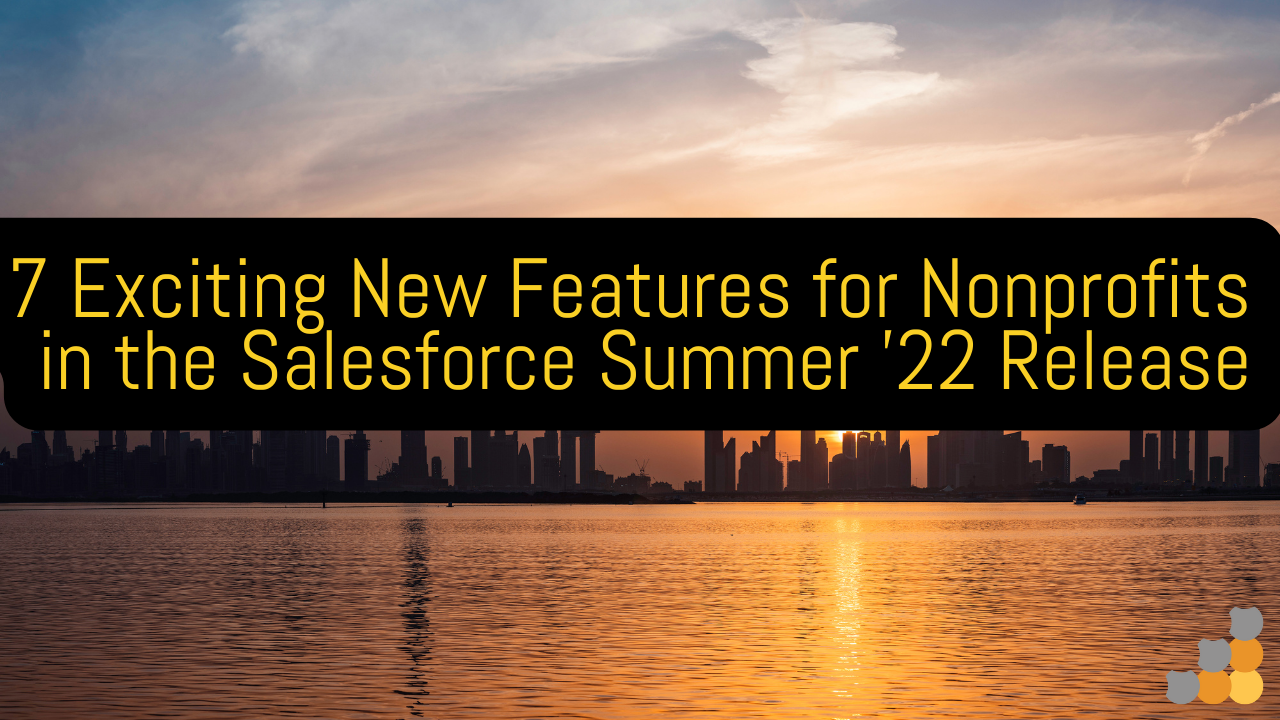 June 2022 welcomes new Salesforce features as part of their Summer '22 Release! As consulting partners since 2014 the Buzzbold team always gets especially excited to share the latest and greatest updates from Salesforce. How will these new features benefit those in nonprofits and further engage donors? Check out our Q&A to learn more!
Donor Self Service in Experience Cloud for Nonprofits
Q: How does this benefit my current and future donors?
A: With this feature, your donors can now see their donation history for a specific time period. This will be especially convenient for the donor during tax time when they want to see all the donations for a particular tax year
Elevate Tribute Donations
Q: Can the donors submit honor or memorial donations?
A: Yes, this new Elevate enhancement will allow for donors to make either an honor or a memorial donation. The donor can also select who will be notified of the donation and what channel to use for notification.
Recurring Donation Lapse
Q: How can I identify if a recurring donation has lapsed?
A: Recurring donations can now be flagged as lapsed or closed in NPSP. Moreover, automation can be set in place to re-engage with the lapsed donors.
Stakeholder Review – Grant's Management
Q: Will external reviewers be able to see funding request information?
A: Yes, with this new update, you will be able to assign a review to a stakeholder so they can evaluate and also comment on funding requests. The external stakeholders can easily review and provide feedback on applications speeding up funding decisions, and with over 30% of nonprofits reporting Grants as a significant revenue stream contributor, every minute counts.
Note: availability dependent on the purchase of Grants Management
Admin Guidance Center – Program Management Module and Salesforce for Nonprofit Case Management
Q: How is this different from Salesforce Help?
A: The Guidance Center provides step-by-step courses and videos that enable your administrator to onboard and set up your org successfully.
Salesforce + Slack
Q: Am I able to view donation updates in Slack?
A: The Salesforce-Slack integration will not only allow you to view donation record updates in Slack, but you can also update these records using Slack. Your team will also be able to view and share Salesforce records right from within Slack.
Note: availability is dependent on the purchase of Salesforce EE and Slack premium+
In-App Guidance
Q: I would like to set up automated instructions regarding next steps, so the record assignee can be confident about their following actions. Is this possible?
A: Salesforce's new user engagement feature is built to solve this exact problem. Whether it's new team members who need some guidance on the workflow or seasoned users who need a reminder, this feature reduces errors and allows your team to focus on relationship management.
What do you need to do to ensure these features are available to your donors and team members?
If you are a Buzzbold customer, the included features available to your org will be applied automatically. If you'd like to set up training or have questions, you can submit a case in the Buzzbold Success Hub anytime!
If you are not currently a Buzzbold customer and would like to learn more about how Salesforce for Nonprofits can drive impact in your organization, we'd love to hear from you, send us a message here!