6 Core Considerations for Fundraising Success in 2023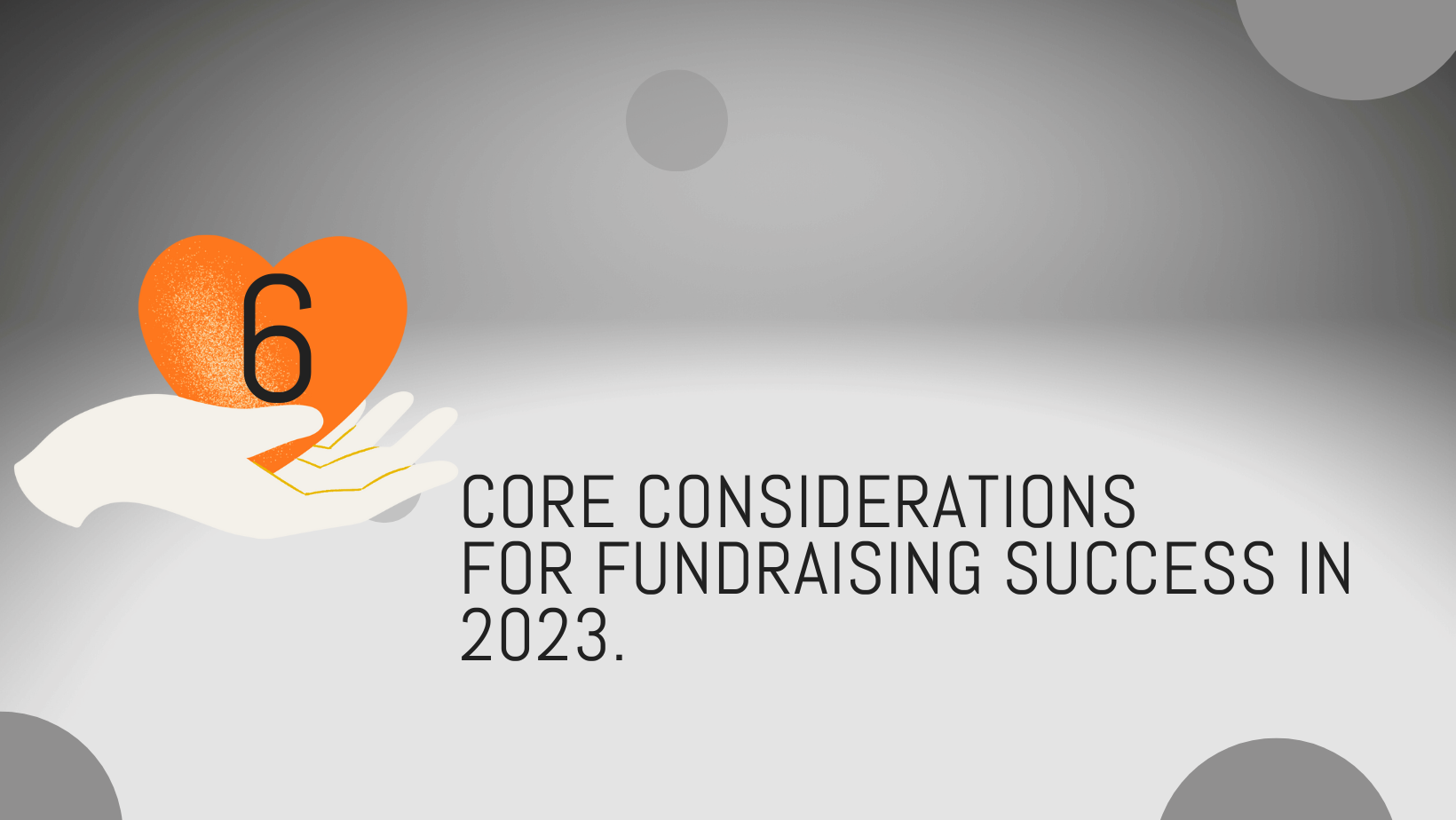 As we head into 2023, nonprofits anticipate challenges related to the state of the economy, technology, finances, and fundraising. Setting strategic fundraising goals will be important for nonprofits to continue expanding their impact. Below are six considerations to keep top of mind heading into the new year.
Make Online Fundraising Easy
As the digital world grows, we need to meet our donors where they find information, look for inspiration, and connect with like-minded people. This means ensuring your content is available on search engines, social media, emails, blogs & web pages. Email is still the most powerful engagement. In fact, Return on Investment (ROI) for email is $36 for every $1 spent. In the latest Salesforce Nonprofit Trends Report, 82% of marketers said the ability to meet constituent expectations depends on their organization's digital capabilities. Fundraising & marketing teams should be aligned on how to engage with your stakeholders on a variety of digital channels.
Provide Valuable Content
Thoughtful content on your website inspires action and is typically the first step to becoming not only a donor but an advocate for your cause. Content is the value you bring to your donors, and the reward is their email address and other forms of information. The first-party data is essential for staying in touch, cultivating interest, and continued support with donations. Here are a few ideas for what your potential donors & advocates might be willing to exchange their email addresses for: Breaking news on issues they care about, an advocacy toolkit to help change a law or policy, access to a private LinkedIn group for networking with like-minded professionals. With information, stories, and calls to action specific to what they are interested in, you want to separate your mailing lists by segments, so you don't take an umbrella approach for all who subscribe. If you do, you risk potential donors unsubscribing, which leads us to our next point.
Segment Your Audience internally
Segmentation involves grouping your audience by interests, behavior, and preferences. Meaningful segmentation allows you to engage prospective and active donors in ways that build trust and strengthen their connection to your mission. Grouping supporters by how they engage with your organization over time can often help you decide the next best cultivation step.
Convert Known Supporters
Focus efforts on what we already know, which is our existing supporters. Invest in programs to convert, retain, and upgrade the volunteers, advocates, and donors that already support your mission. Volunteers and advocates are among your organization's most passionate supporters. Their first-hand experience with your mission has primed them to make that first gift. However, don't expect a generic approach will work on them. Make sure your outreach is personalized since they anticipate your organization to know them as they have been advocating or volunteering for you. The key to converting volunteers and advocates to donors, and retaining them as donors, is having a single view of all the ways they engage with your organization. Unifying data in a single system gives fundraising visibility into a prospect's complete history with the organization, which makes it easier to tailor cultivation activities.
Thank and Report
Expressing sincere gratitude for contributions is the first step in building trust. Stakeholders need to feel appreciated and that their actions matter. Showing thanks is simple but powerful, deepening relationships with your donors. Genuine gratitude lets supporters know they are valued while creating a sense of shared purpose. Keep in mind, though, expressing gratitude is just a start. A recurring donor expects a higher return on accountability. Salesforce reported in their Nonprofit Trends Report that 7 out of 10 nonprofit donors expect some digital access to the organization's KPIs (Key Performance Indicators).
Secure Sensitive Stakeholder Data
Maintaining relationships with hundreds or thousands of people means keeping track of a lot of information. Your ability to track and use that information can tremendously impact your ability to deepen relationships with your supporters. Having a complete historical view of how your various online and offline fundraising channels perform also provides a solid baseline for accurate revenue forecasting, which is crucial for resource planning. Another important aspect of taking care of data is protecting it. Having people's personal details on file puts nonprofits in a position of trust, with responsibility for keeping that data safe.
Interested in strategizing for fundraising success while securing stakeholder data?
Reach out to our Solutions Team, and we look forward to a prosperous new year together!