Salesforce Administrator
Description
Do you want to be part of a growing team that works with nonprofits and educational organizations to further their missions and vision using the power of Salesforce? At Buzzbold, our growth is fueled by a reputation of excellence, persistence, quality, and dedication. This level of care requires that every team member is committed to working closely together to accomplish ambitious goals and stepping in to support each other's success and effectiveness. Success in the Salesforce Administrator role means being a champion of supporting managed services execution for the customer and Buzzbold during the entire customer journey. This remote position is highly collaborative, working both internally with products, implementation, and account management and externally with clients. 
We are seeking a person who is looking for:
a growth-minded role, with an emphasis on continued learning & personal development

participation in a culture that respects inclusion and input from all team members

building trusting relationships with our nonprofit clients in order to help further their mission 

meaning in the work they do using the power of Salesforce to help our clients expand their impact

a desire to be a part of an innovative, collaborative organization where "everybody knows your name"
This is an invaluable position with varied tasks and responsibilities. A day in the life may include:
Case support for customer questions and ad-hoc needs for our Managed Services clients

Analyzing customer questions and needs to determine the best solution

Communicating with customers and the internal team to resolve questions and needs

Implementing changes and fixes to resolve customer questions and needs

Performing scheduled services and maintenance tasks for our Managed Services clients

Reviewing Salesforce updates & releases to determine their effect on customer's orgs

Escalating project risks or issues appropriately to leadership 

Projecting work for new clients as assigned

Authoring and maintaining documentation of work related to Managed Services

Recording demos and assisting in the creation of leave-behind training materials post-project as assigned
Responsibilities
Monitor Support Queue to review, assign, and manage customer requests and ad-hoc needs (support cases.)

Troubleshoot and fix bugs as reported by customers or through internal testing and maintenance.

Address escalated client issues with speed and urgency, e

valuating, and ensuring the resolution of cases for assigned projects and customers.

Provide consistent communication with customers and the internal team to ensure case resolution.

Manage customer org updates aligned with Salesforce release cycles

Ensure adoption and change management around new releases (including training.)

Perform system administration, configuration, and support for Salesforce, including but not limited to: User setup, management, and security, Configuration of standard/custom objects, Creation and management of workflows, validation rules, Process Builder, Data quality management and data loading

Implement customer-facing training solutions in collaboration with the team, as needed to address solutions for support cases.

Maintain daily, weekly, and monthly Managed Services reporting tools. 

Prepare reports of completed customer work, next steps, blockages, and customer learning opportunities in preparation for customer delivery each month.

Design and participate in comprehensive end-user acceptance planning and testing, as assigned.

Identify gaps and capabilities for the emerging needs for customers and work with the team to secure resources.

Maintain and earn professional credentials, as well as complete educational/training assignments through Trailhead, conferences, or pursuing navigator specialties in Partner Learning Camp. As well as remain informed on new technologies, methodologies, and tools relevant to nonprofits and NGOs.

Participate in team culture and community stewardship activities, including connecting with nonprofit organizations for official volunteering events.

Represent Buzzbold in manners aligned with our core values of trust, inclusion, and growth.
Required Experience & Skills
Salesforce Certified Administrator

Minimum 18 hours per week

3-5 days a week

Fixed hours between 8:00-5:00 CST
Strong Salesforce product knowledge with 1+ years of Salesforce or comparable implementation experience 

Nonprofit work or consultant experience

Excellent time management skills and the ability to prioritize work

Ability to demonstrate initiative and accountability

Strong presentation skills and the ability to conduct thorough training with learning objectives

Working-level knowledge of business-related software applications and services

Write and communicate concisely reflective of Buzzbold's value, voice, and tone

Ability to design and implement new processes as well as promote process improvement and lead with best practices that facilitate user adoption.

Located in the United States with flexible availability for work during Central Time, M-F.

Strong understanding of the platform, with the ability to build custom apps and objects, formula fields, flows, custom views, and other content of intermediate complexity.

Familarity with Apex, Salesforce API, SOQL (Salesforce Object Query Language)
Preferred but not Required 
Salesforce Education Cloud Consultant
Salesforce Nonprofit Cloud Consultant (or will acquire within 90 days of hire)
Buzzbold's Tech Stack
Buzzbold Success Hub (Customer Experience) -

On-brand communications responding to customer cases with a sense of urgency

Google Workspace -

Install Salesforce for Gmail extension and ensure integration remains connected at all times.

Proficiency in Google Docs, Sheets, Presentations and other online collaboration tools

Calendly -

Coordinate and schedule availability and meetings to support sales and client relationship development

Harvest -

For time tracking, including billable time with detailed, customer-facing annotations, ensuring reported work conveys value.

Slack -

Maintain an online presence in Slack during working times and actively coordinate with team members in designated channels

Salesforce Partner Community -

Engage within the Salesforce Partner Community, actively involved with groups relevant to our business.

Salesforce Partner Learning Camp -

Keep up to date on completing training modules as they are released and relevant to your role.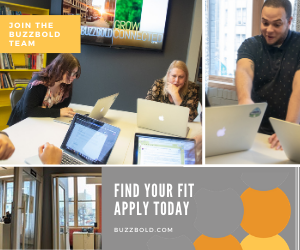 Apply Now