Project Manager/Business Analyst
Description
We will not be accepting applications from recruiters. 
Do you want to be part of a growing team that works with nonprofits and educational organizations to further their missions and vision using the power of Salesforce? At Buzzbold, our growth is fueled by a reputation of excellence, persistence, quality, and dedication. This level of care requires that every team member is committed to working closely together to accomplish ambitious goals and stepping in to support each other's success and effectiveness. This remote position is highly collaborative, working both internally with products, implementation, and account management and externally with clients. 
We are seeking a Project Manager/Business Analyst to join our team! In this joint skills role, the individual will provide project oversight with an eye toward time/scope/budget while working closely with organizations to investigate business processes and requirements. This individual will be a key member of the delivery team, ensuring projects are kept within guidelines and synthesizing requirements for the technical team's use. 
If you are looking for:
an opportunity to serve others by managing projects for nonprofit organizations and educational institutions

a growth-minded role with an emphasis on continued learning & personal development

participation in a culture that respects inclusion and input from all team members

building trusting relationships with our nonprofit and education clients in order to help further their mission 

meaning in the work you do using the power of Salesforce to help our clients expand their impact

a desire to be a part of an innovative, collaborative organization where "everybody knows your name"
This is an invaluable position with varied tasks and responsibilities. A day in the life may include:
consulting directly with clients via video or email on their timelines and project statuses

developing clear project plans, budgets, & timelines for future projects pre-kickoff

escalating project risks or issues appropriately to leadership 

leading internal and external project planning and kickoff

facilitating regular project team meetings with clients

recording demos and helping to create leave-behind training materials post-project

managing resources within and between projects to make the best use of project hours

managing time to allow for hands-on Salesforce development and implementation 

keeping informed on new technologies, methodologies, and tools relevant to nonprofits and NGOs

maintaining consistent communications and reporting to the Service Delivery Manager on Project Statuses
Responsibilities
Qualified candidates should be able to:
create process diagrams from a set of User Requirements

be tenacious about ensuring project timelines and status are accurate and up-to-date

vigilant with assignments and eager to communicate with team members

comfortable with calling out breakdowns quickly in order to maintain excellent levels of service

committed to ensuring clarity and truth with project timekeeping 

skilled at developing Salesforce reports to track project management metrics

adept at budget information; comfortable with spreadsheets and calculations
Responsibilities:
Understand the scope of work for each Project Implementation

Define necessary resources to complete the Project and schedule capacity 

Meet client promises while staying on budget

Maintain budgets for each Project Implementation

Escalate budget concerns to the Service Delivery Manager

Manage tasks, milestones, status, and allocation of resources to meet the budget and timeline

Establish a rhythm of meetings with the internal team to ensure the Project is on track and blockers are addressed

Oversee consistent communication with customers and the internal team to ensure project delivery

Establish a rhythm of meetings with clients for Project updates and iterations

Design and participate in comprehensive end-user acceptance planning and testing

Identify risks to Project completion and establish risk mitigation strategies

Determine and maintain security requirements

Transition the client to the Managed Services team when the Project is completed

Identify gaps and capabilities for the emerging needs of clients and inform the Director of Business Development to explore additional projects

Maintain and earn professional credentials, as well as complete educational/training assignments through Trailhead, conferences, or pursuing navigator specialties in Partner Learning Camp 

Participate in team culture and community stewardship activities, including connecting with nonprofit organizations for official volunteering events

Represent Buzzbold in a manner aligned with our core values of Trust, Inclusion, and Growth
Required Experience & Skills
Experience Requirements
Strong Salesforce product knowledge with a minimum of 6 months of Salesforce or comparable implementation experience 

Nonprofit work or consultant experience

Empathy and interpersonal skills: Ability to empathize with customers, show understanding, and adapt communication style to suit different individuals. Excellent interpersonal skills to build rapport and establish trust.

Problem-solving abilities: Strong analytical and problem-solving skills to identify root causes of customer issues and provide effective solutions in a timely manner. Ability to think creatively and handle challenging situations with composure.

Customer-centric mindset: Deep commitment to delivering outstanding customer service. Proactive in anticipating customer needs and dedicated to surpassing customer expectations.

Adaptability: Ability to work in a fast-paced environment and adapt quickly to changing priorities and customer demands. Resilience in handling high-pressure situations and maintaining a positive attitude.

Excellent time management skills and the ability to prioritize work

Ability to demonstrate initiative and accountability

Strong presentation skills and the ability to conduct thorough training with learning objectives

Working-level knowledge of business-related software applications and services

Write and communicate concisely reflective of Buzzbold's value, voice, and tone

Ability to stay up-to-date with Salesforce technology and industry best practices, and share knowledge and insights with the team and the broader organization.

Located in the United States with flexible availability for work during Central Time, M-F.
Preferred but not Required
Experience as a Scrum Master

PMP

Salesforce Education Cloud Consultant

Salesforce Nonprofit Cloud Consultant 

Omni-Studio Experience

Grants Management/Program Officer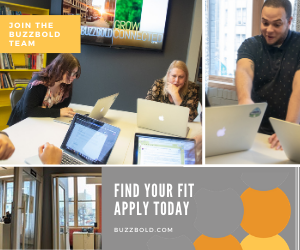 Apply Now